Renovating a bathroom can be a daunting prospect; deciding the look and feel you want, organising the demolition, clean-up, installing or upgrading plumbing and electrical, and managing any manner of unexpected surprises such as asbestos, water damage, uneven flooring, etc.
Adelaide Bathrooms do all the hard work for you
When you use Adelaide Bathrooms, you won't be let down by trades that either don't show up on time, or don't deliver the same quality of work as your other service providers. And you can forget the endless phone calls, emails and hassle of trawling through mountains of paperwork containing dozens of different proposals, contracts, schedules and invoices from all the different parties involved.
As bathroom renovation specialists, we have years of experience and the right mix of highly qualified trade professionals to manage your renovation from start to finish. We provide one contract, one point of contact, liaise with your suppliers and manage all your trades as part of our service to keep your bathroom renovation simple, streamlined and stress-free.
Here's how it works.
Stage 1: Renovation Groundwork
Before any work starts on your bathroom renovation, we first consult with you to assess your needs and the space you'll be renovating. We can take care of any structural alterations your renovation might need, such as removing walls or relocating doorways and windows, as well as any council approvals required.
Once the site has been assessed, we'll go through product selections, draw up the design plans for your renovation, and confirm the costs, start/finish dates and scope of work for your project in writing.
Stage 2: Demolition & Construction
Out with the old and in with the new! We start by removing the parts of your existing bathroom that will be replaced, and carry out the demolition or construction of walls, doors and windows that will be needed to accommodate your new bathroom design. Once the structural framework is complete, the next phase of construction includes first fix plumbing and electrical, lining and plastering walls, and installation of concrete or structural flooring. Your bathroom is now ready for the final stage.
Stage 3: Fixtures & Finishes
This is where your new bathroom really starts to take shape! We schedule our qualified trade professionals to complete installation of waterproofing, underfloor heating, tiling, cabinets, shower screens, final fix electrical and plumbing, painting, fixtures and accessories – even skylights.
Our trade crew have worked together on numerous bathroom renovations, which means they're used to working as an organised team to provide great results in a timely, efficient manner. The result is a faster, smoother, more streamlined renovation that you'll be enjoying in no time!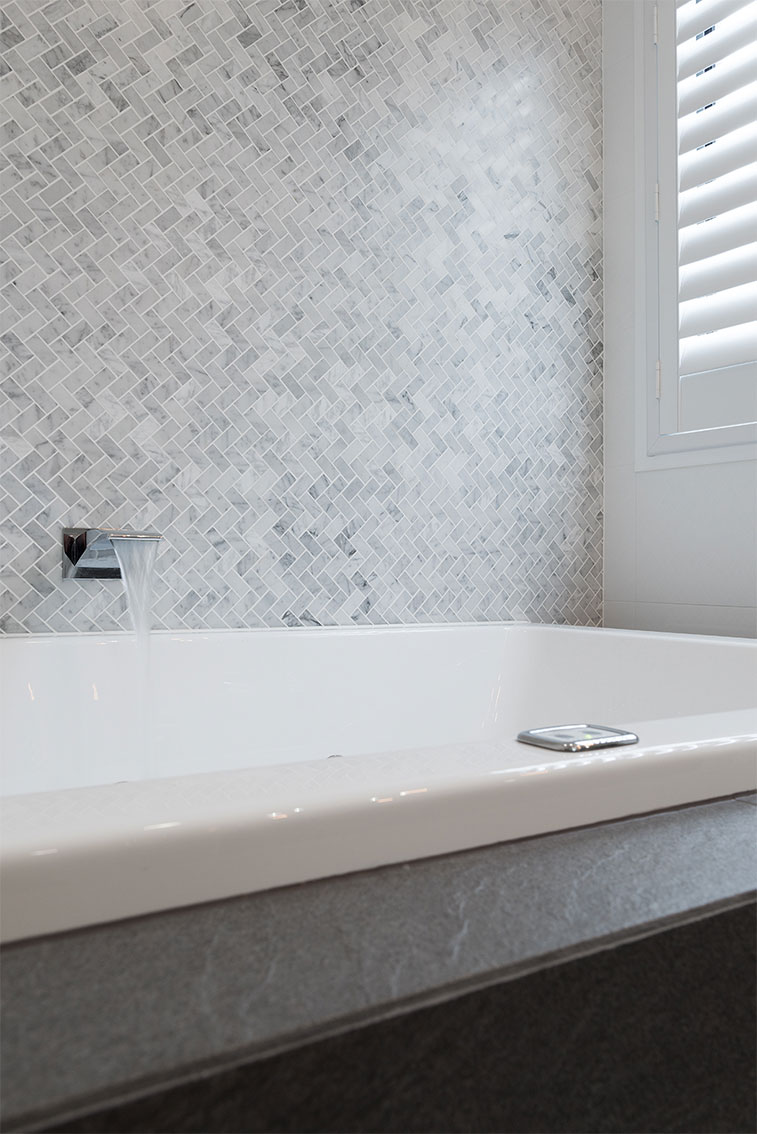 We are absolutely delighted with our new bathroom. Not only does it look fabulous, the workmanship is immaculate and the whole process from start to finish was trouble free and went quickly and smoothly

Sally and Nick, Linden Park